Malibu's Ten Best Secret Beaches
Thanks to Josh from the blog Yonder Stoke, for writing this guest post for us.
About 7 miles North of Santa Monica on Pacific Coast Highway, you'll come across a sign that says, "Malibu, 27 Miles of Scenic Beauty," and it's true. Malibu is basically a 27-mile long beach stretching from Topanga State Beach in the South to County Line Beach in the North. Even though there are some incredible public beaches in Malibu (Topanga, Surfrider, Zuma, and Leo Carrillo to name a few), much of its coastline is blocked by million-dollar mansions and private beach clubs.
Parking suggestions are subject to change. Be sure to read and abide by all posted signs.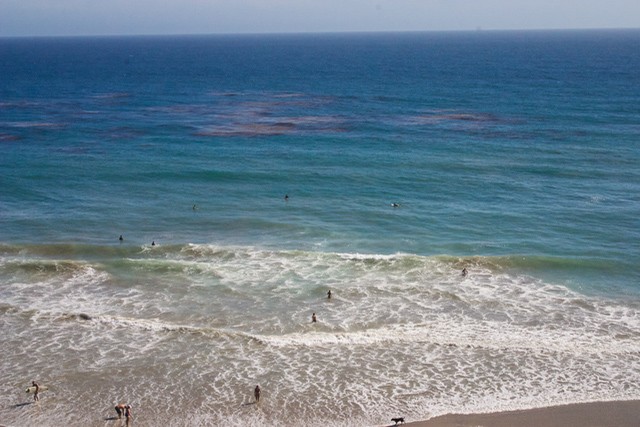 After living (and surfing!) in Malibu for the last five years, I've discovered quite a few amazing and secluded beaches where you might get your own patch of sand, and that is easier said than done when the entire LA area descends on Malibu every summer weekend. So, if you're the type of person who likes over-crowded parking lots and noisy tourists, then this article isn't for you. But if you'd rather find a nice secluded beach to relax and soak up the sun, then read on my friend, read on.
Big Rock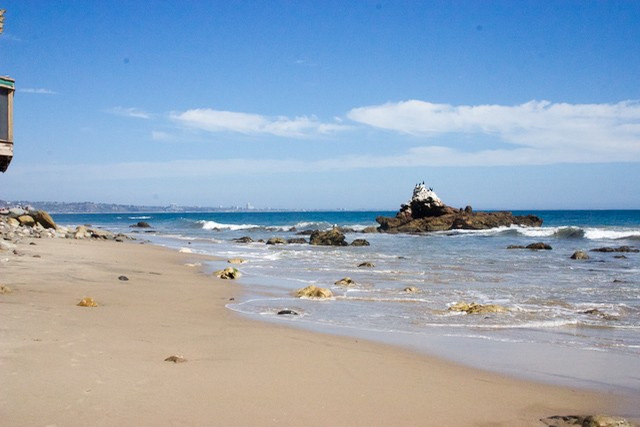 Big Rock, cleverly named after the massive rock sitting just off-shore, is a very picturesque beach located just North of Topanga State Beach. Driving North on PCH, about ¼ mile after you pass Big Rock Drive, there's a coastal access stairway that leads down to the beach. Welcome to Big Rock Beach.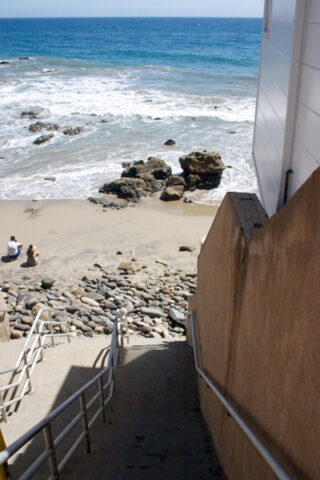 Big Rock is a gorgeous beach if you're looking for tide pools or photo-ops. The rocks make for stunning sunset pictures, and the view up the coast is unrivaled. If you've got kids, it's a great place to explore tide pools and hunt for crabs. However, it's probably not the best place to come if you're looking for lots of sand. Also, make sure to go here at relatively low tide, because there isn't any beach when the tide rises.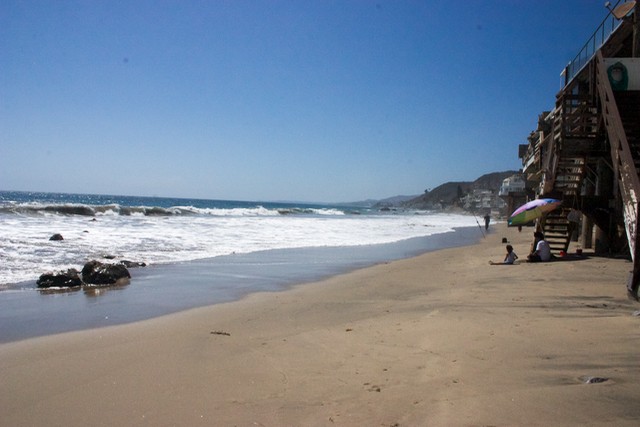 Carbon Beach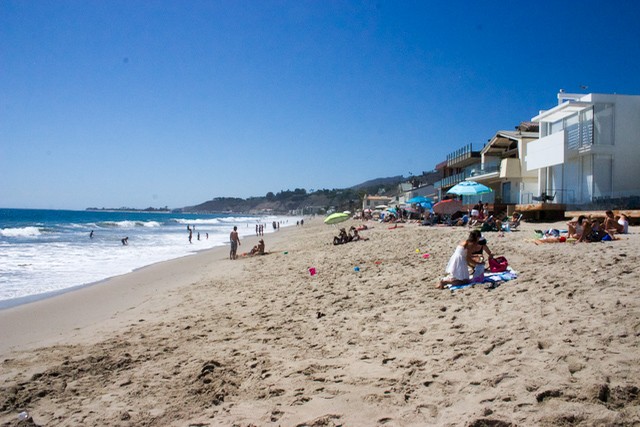 Carbon Beach is often called "Billionaires Beach" and for a good reason. This beach is ideal for any beachgoer, whether you're looking for a beautiful sandy spot to soak up some sun or a great place to swim in the waves. Here are three reasons you should check out Carbon Beach: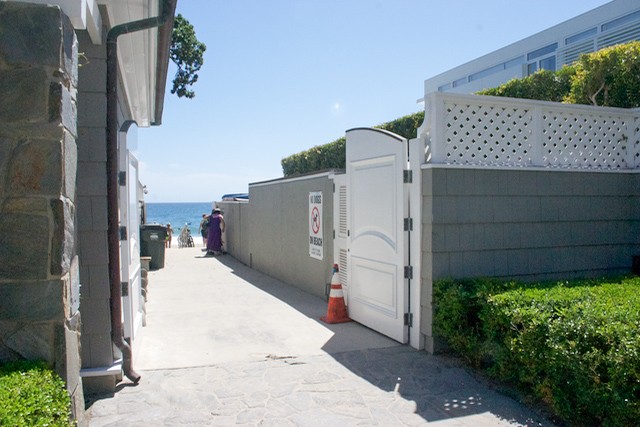 Lots of sand! Carbon Beach has some of the largest public-easements out of any beach in Malibu. This means that there is a lot more sand that's open to the public. While some of the other beaches on this list might get pretty tiny at high-tide, this beach is almost sure to have a nice dry patch of sand.
Great architecture. Carbon Beach is home to some of the most expensive and impressive homes in Malibu. If you're into architecture or just like to daydream about having a beachfront property, this is a great place for you.
Easy access. Carbon Beach boasts two of the newest access ways in the area. This means the gates are marked and are very well maintained. So enjoy!
To get here, look for the coastal access signs just south of Malibu Pier and Nobu. These brown signs are gold if you're looking for a relaxing, secluded beach.
Malibu Road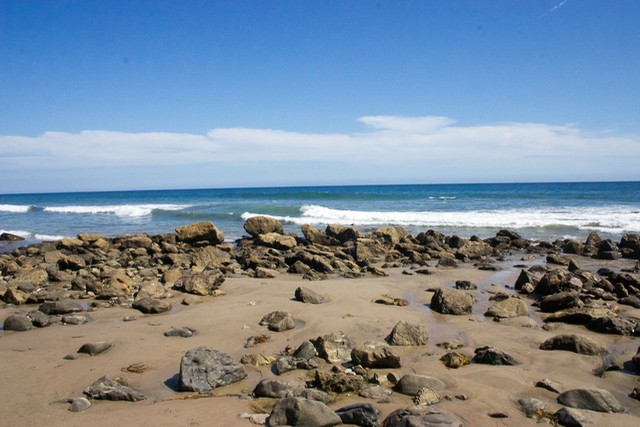 Malibu Road shouldn't be counted as one beach. This 2.5-mile stretch of sand boasts at least five access points, but probably more if you're creative. Getting here is easy. Malibu Road starts right behind the Ralph's in Malibu. Then turn North on Malibu Road and simply drive until you see a coastal access-point that suits your needs. To determine which access point is right for you, you need to know what you're looking for in a beach because this one's got all of the options.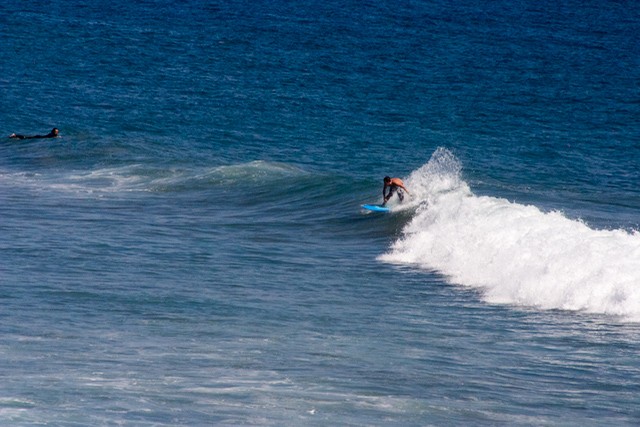 If you're like me and looking for a spot to surf, then I would suggest the first access point. This place is at the first vacant lot you see on the ocean-side of the road. If the waves are good, you'll see a nice break to the left of this open lot (if the waves are small, then I'd suggest somewhere like Zuma). The only problem with this spot is that it takes some impressive scrambling skills to get down to the beach, but hey, that's what makes it worth it right?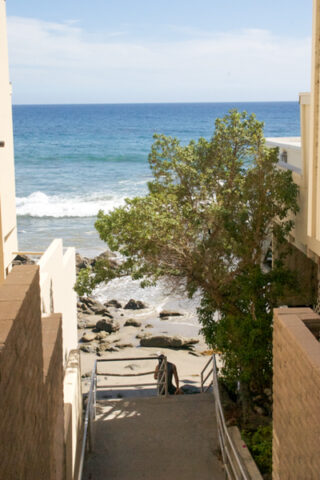 If you're just looking for a nice spot to take the family, then I would suggest one of the other access points on Malibu Road. Less than a quarter mile north of the empty lot for surfers, there's a coastal access spot that leads to a beautiful little sandy cove. This is a great spot to bring the whole family, and there's usually a decent amount of parking by this access point too.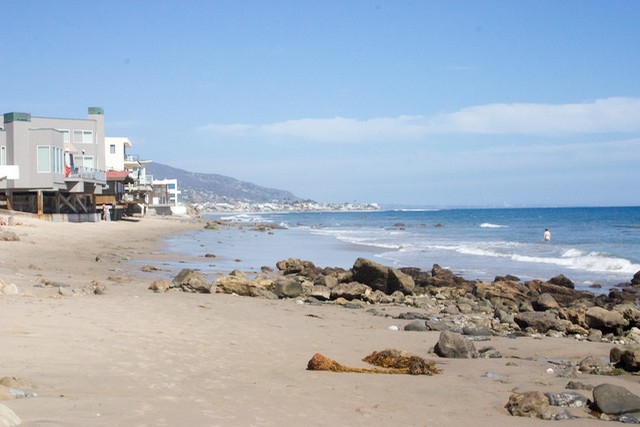 Malibu Road is great, because you can usually find free parking, and you're almost sure to have some good sand, even at high tide. Also, if you're the type of person who's into long walks on the beach, you can easily walk for upwards of 3 miles on this beach. So I think you're set.
Latigo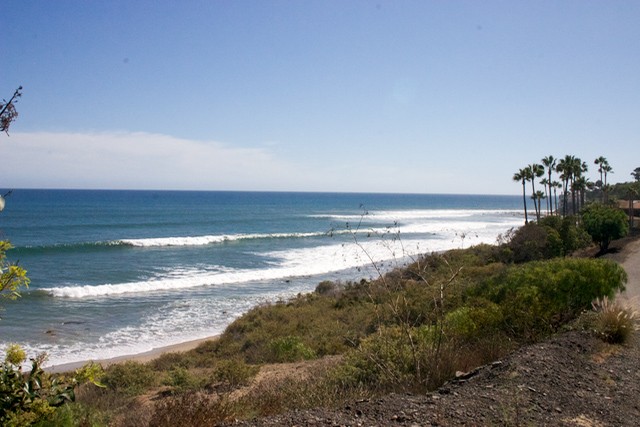 Oh Latigo. What can say about Latigo except that it is quite possibly my favorite beach in Malibu! Latigo is where I caught my first real wave. It's where I go pretty much any time there's a big swell. It's such an amazing beach and yet, most people don't really know about it.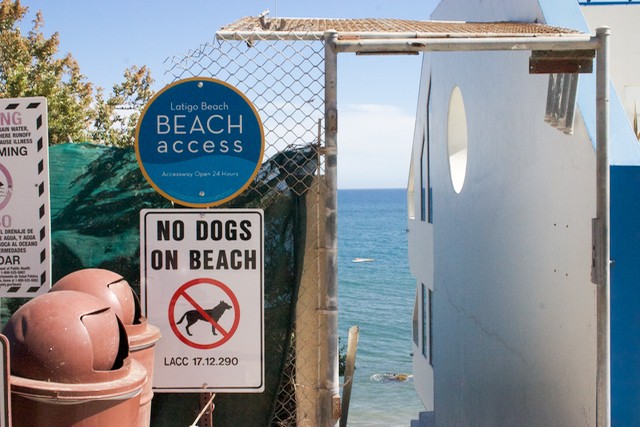 Latigo is about 3 miles North of Malibu Pier on Latigo Shore Drive. Many of the Latigo Shore locals don't like anybody using their beach, so they often hire a security guard and make sure that unauthorized people don't park on Latigo Shore Drive. However, there's good news. Latigo is public, the staircase going down to Latigo is public, and there's abundant free parking on PCH. Just make sure you don't park on Latigo Shore Drive because I'm sure you'll get a ticket.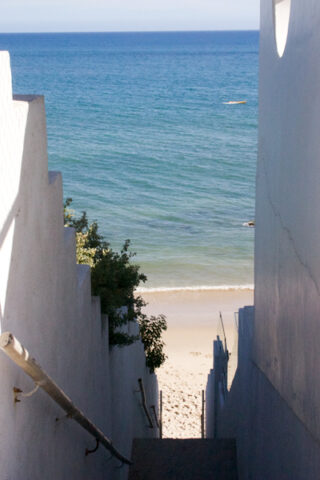 Anyway, Latigo is excellent for many reasons. For surfers, it's one of the best point breaks in the area, and it's usually much less crowded than First Point at Malibu Surfrider. The wave at Latigo is nice and slow, so it's a great spot for beginners to test out their skills as well as more experienced surfers to get practice on some nice long waves.
For those who would prefer to enjoy the beach from dry-land, Latigo offers great views and lots of sand. Additionally, Latigo point blocks most of the wind coming from up the coast. So this tends to be a pretty calm and well-protected beach.
Escondido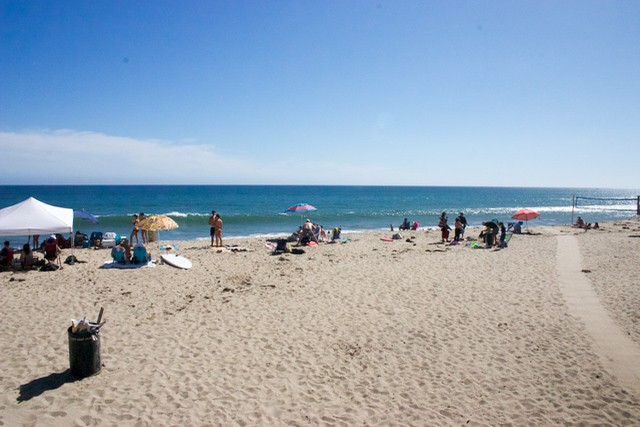 Escondido Beach is a popular spot for sunbathers and for those who want to launch a kayak or paddleboard. Getting to Escondido is really easy. There's a coastal access gate at the intersection of PCH and Escondido road. Many people pull over right next to the gate to unload boards, kayaks, and other beach equipment before finding free parking further away on PCH.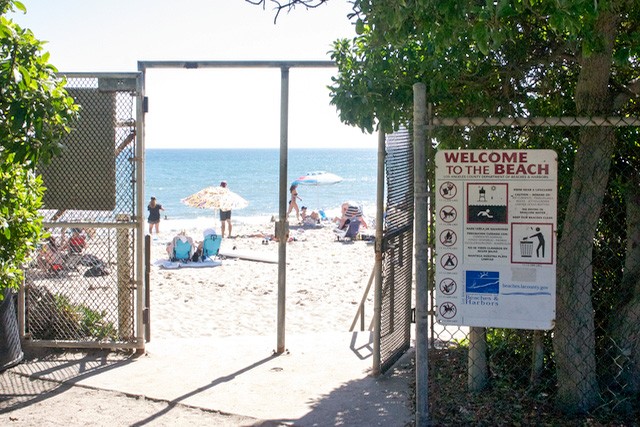 Because of it's large, sandy beach, Escondido is great for anybody who's just looking to stretch out a towel and relax in the Malibu sun. There is a lot of sand at Escondido that is far away from the water, so you don't need to worry about being flooded as the tide rises. Plus, if you want to explore, you can walk for miles up and down the beach.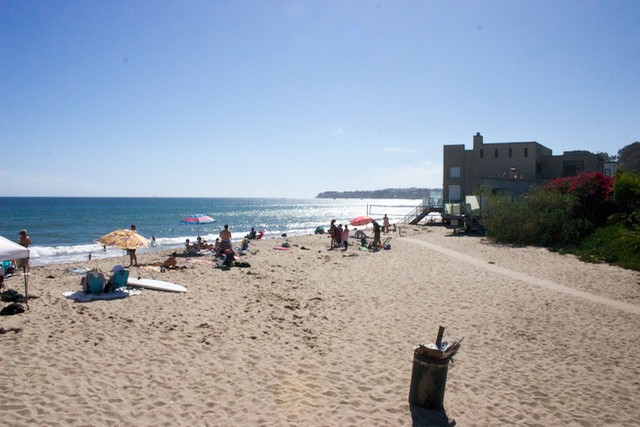 If sunbathing is too tame for you, Escondido is also a great place to launch kayaks or paddle boards. The coastal access point is right on PCH next to a bus stop. People often unload their boards and kayaks here, so they don't have to lug them all the way from the car. Once unloaded, it's just a short jaunt across the sand before you can launch your watercraft of choice in the beautiful Pacific. But wait, there's more. If you're into paddling, you can explore up the coast and paddle all the way to Paradise Cove or the highly exclusive Little Dume Beach. Check it out you wild adventurers, you.
Point Dume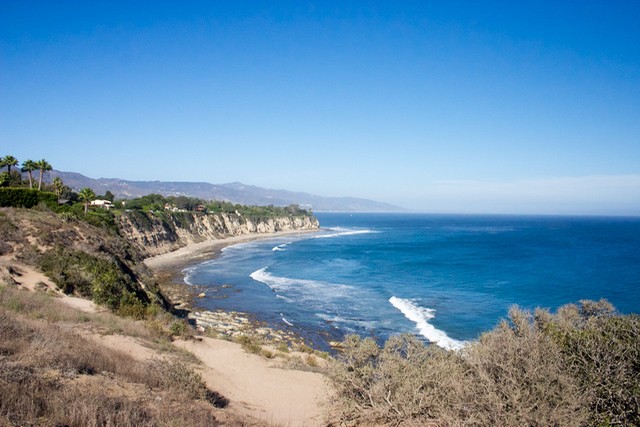 I know, I know: Point Dume isn't exactly a secret. However, I find that many people don't know a few key aspects of Point Dume that I'd like to share. First of all, there's an impressive beach down the staircase from the Point Dume lookout. Did you know that? It's one of the coolest beaches in Malibu, and it's often overlooked because people only come to Point Dume to look out over the cliffs (which is a pretty incredible view I must say).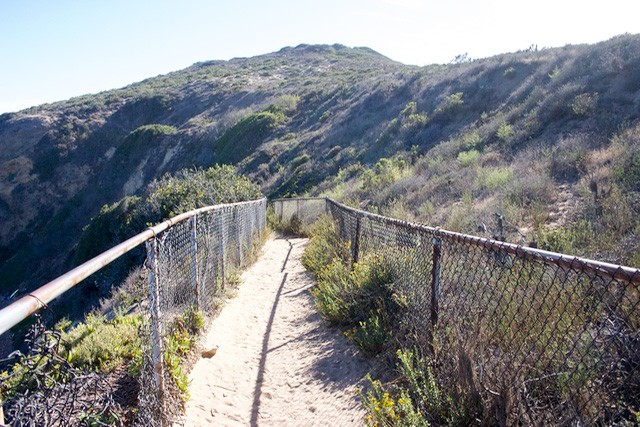 The Point Dume beach may be a slight trek because of the long staircase to get there, but trust me it's worth it. Especially if you are there sometime near sunset, because the cliffs are breathtaking!
So why don't many people come here? Well, the parking situation leaves a lot to be desired. There are a few parking spots, but I mean very few. Probably like 6. So if you're not driving a scooter like I am, it's doubtful that you'll be able to snag one of those spots. However, never fear. There's secret, street parking a little ways away, and if you're willing to walk all the way down the stairs to the beach, this extra jaunt up the road isn't going to kill you. So how do you get there? Drive up Cliffside Dr. away from Point Dume and turn left on Grasswood. Keep going down Grasswood until you see a magical sign that only says "No Parking" with an arrow pointing in one direction. Past that sign, anywhere is fair game. So get out there and get your park on you crazy locals.
Broad Beach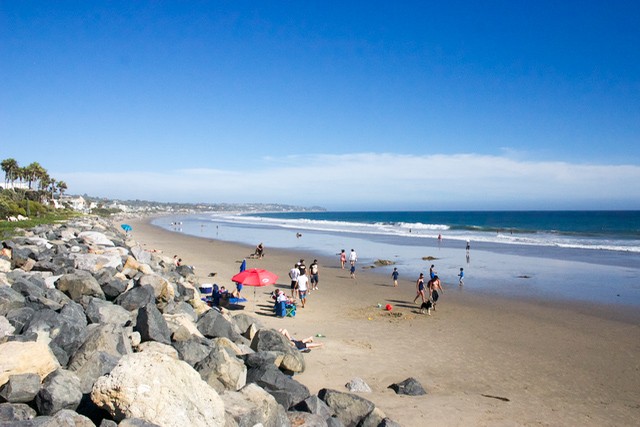 Broad Beach is basically Zuma, without all the people. I don't know about you, but Zuma is my worst nightmare on a hot, summer weekend. After sitting for hours in a hot car, you finally get to Zuma and realize you aren't the only person in LA who's trying to escape the heat, 4 million of your closest friends had the exact same idea. Who knew? Well, guess what? You can relax at a great beach almost exactly like Zuma and still get away from the crowds. Plus, you'll likely get free parking. Where is this mystical beach, you ask? Well, it's literally connected to Zuma to the North.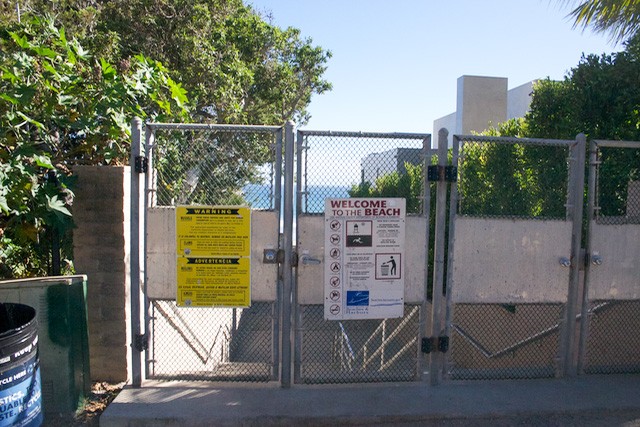 The best way to get here is to drive past Zuma on PCH and then turn left onto Broad Beach Road. Once on Broad Beach, keep an eye out for the coastal-access gates on your left. There are at least 2 that I know of, and they're both pretty awesome!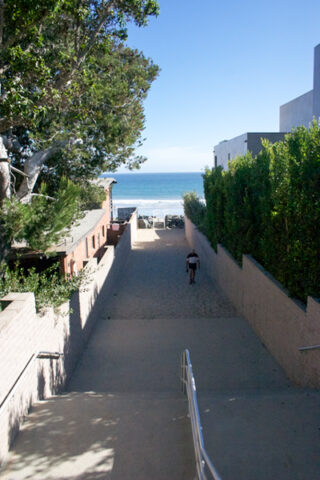 Broad Beach is a great beach to relax and throw the Frisbee or go bodysurfing in the waves. Plus, like pretty much everywhere else in Malibu, you can gaze in wonder at the incredible homes that line the coast. Maybe someday you'll live in one of those. That's the dream.
Lechuza Beach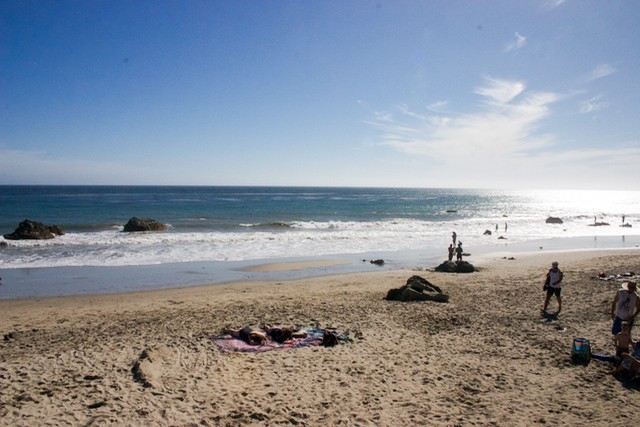 Lechuza Beach is just a little ways past Broad Beach. If you continue on Broad Beach Road until you come to the intersection of Broad Beach Road and Bunnie Lane, on the left-hand side is the coastal access point for Lechuza Beach. Lechuza is amazing! As you walk down the long path that leads to the beach, you start to feel like you're out of the Los Angeles' craziness.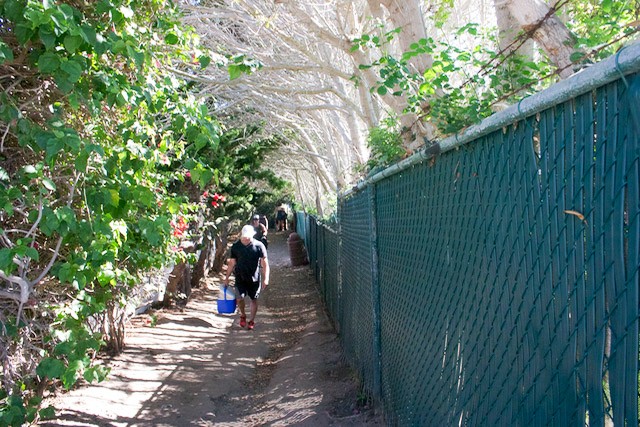 Even though it's off the same road as Broad Beach, Lechuza is actually around Trancas Point so you can't walk to Lechuza from Broad Beach. Because of this separation, you really do feel like you've discovered a hidden gem.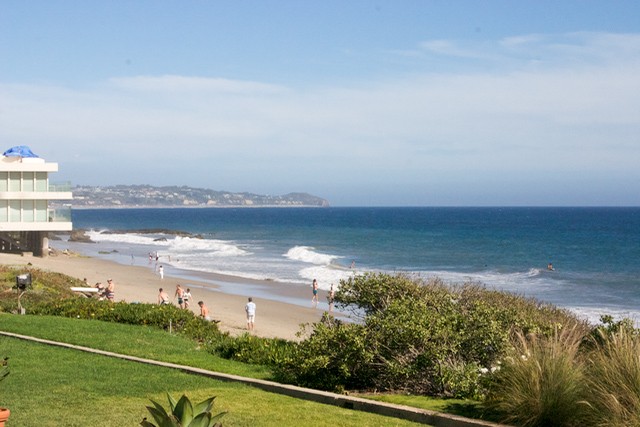 Plus, Lechuza tends to be a little more protected than Broad Beach. So if it's a windy day, it may be your best bet. Lechuza is one of my favorite beaches to relax on because something about it just feels more secluded. It feels like you've escaped LA and made it to your own little slice of paradise. Not only that, but there's plenty of sand for the whole family, and the waves are nice and gentle compared to Zuma so you can enjoy the water too.
Staircase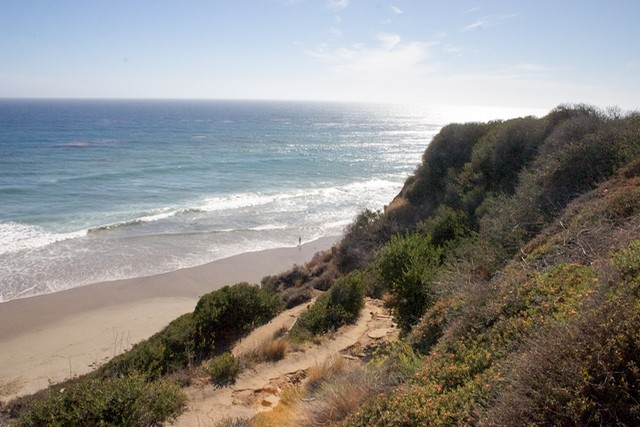 If I had to choose my favorite beach in Malibu, it would be a tie between Staircase and Latigo. Latigo is where I caught my first real wave, and it's one of my go-to spots whenever there's a swell. But Staircase is where I go to get away from the hustle-and-bustle, and it's simply gorgeous. To give you an idea, my wife and I love this place so much that we took our engagement pictures here! It truly is breathtaking, especially at sunset.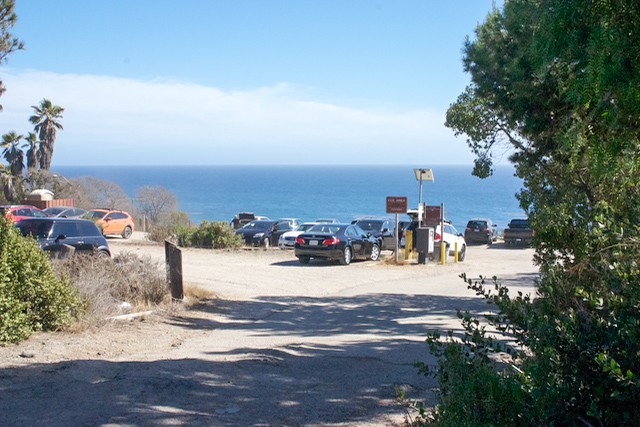 That said, if you haven't been there before, Staircase can be very tough to find. When you're heading North on PCH, right after you pass Leo Carrillo State Beach, and right after you pass the "Ventura County Line" sign on the right-hand side, look for a large tree that hangs out over PCH on the left-hand side. This tree marks the entrance to a hard-to-find parking lot. Another indication is that there's a mailbox at the entrance to this lot marked "40000."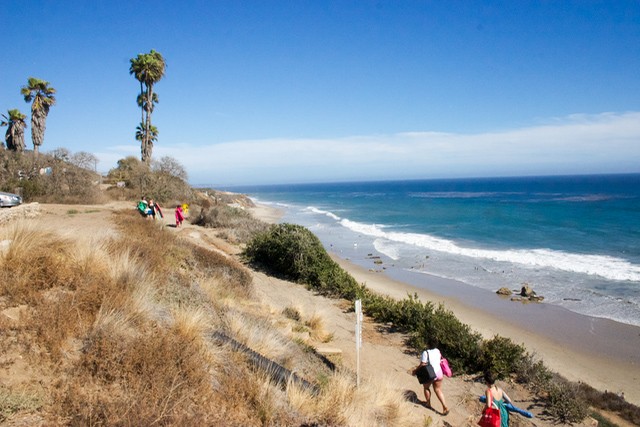 If you're ok with paying ($8 per day), you can park in this lot. Otherwise, you can always park on PCH and then just walk across the street to the parking lot. There's a staircase/path (hence the name "Staircase") on the far side of the parking lot, and this is how you get down to the beach.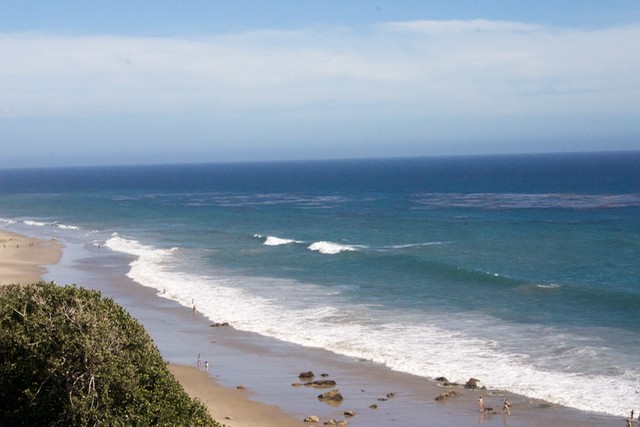 Staircase is great if you:
Want to get away from the crowds. Because of the hidden parking lot and the long trek down to the beach, most people stay away.

Like to take stunning photos. The steep cliffs, large rocks, and beautiful sandy beach all make this one of the most gorgeous beaches in Malibu. Plus, you don't have to worry about people always getting in your shot because this place is usually pretty empty.
Heavens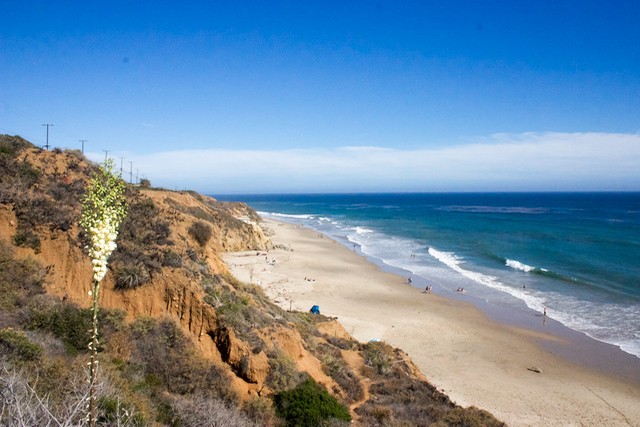 Heavens is just south of Staircase, and actually, the two beaches are connected. However, there is an alternate way to get down to the beach just south of the Staircase parking lot. On the ocean-side of PCH just South of the Staircase parking lot, look for a few small trees with a brown sign that says "Dogs on Leash." This sign marks the start of the path down to Heavens Beach. As you start down this path, you'll see one of the most amazing lookout points in Malibu. It overlooks Heavens to the left and Staircase to the right, and it is stunning!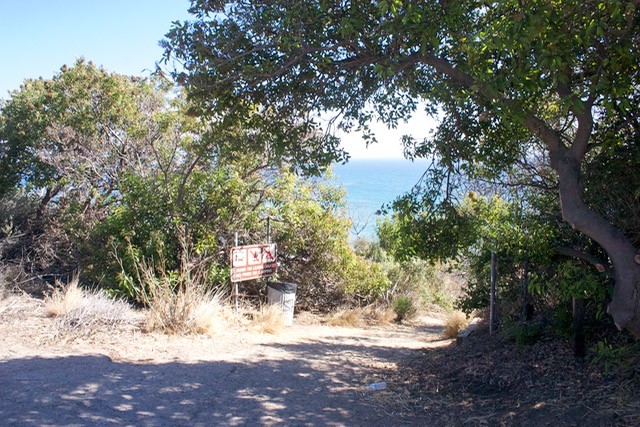 Heavens, like Staircase, is both picturesque and a beautiful beach. It's also a slightly shorter walk down to the beach using this path, however, it can sometimes be a little overgrown with foliage.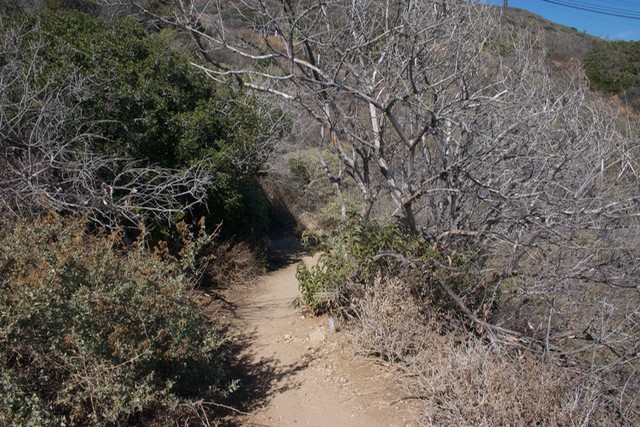 Another great thing about both Staircase and Heavens is that you can bring dogs as long as they're on a leash. These beaches are super dog friendly and they give your pups a lot of space to run and play. Plus, your dogs can make some friends here because lots of people bring their dogs down to these beaches.
Final Thoughts
So there you have it: a list of my favorite secret beaches in Malibu. If you want even more information on hidden beaches in Malibu, check out the app "Our Malibu Beaches." It's got an interactive map that will tell you about all of the coastal access points near your location. Plus, they have a lot of great tips on where to park and which parts of the beach are public property versus private property. When you're trying to escape the heat this weekend, don't get stuck with all the tourists at Zuma. Find a nice patch of sand all to yourself, and share your favorite secret spots down below.
About the Author
Josh dabbles in just about anything that has to do with the outdoors. He's happiest if he's surfing, camping, traveling with his wife, or eating a tasty breakfast burrito. To keep up with all of his shenanigans, check out his blog, Yonder Stoke, or give him a follow on Instagram or Facebook.